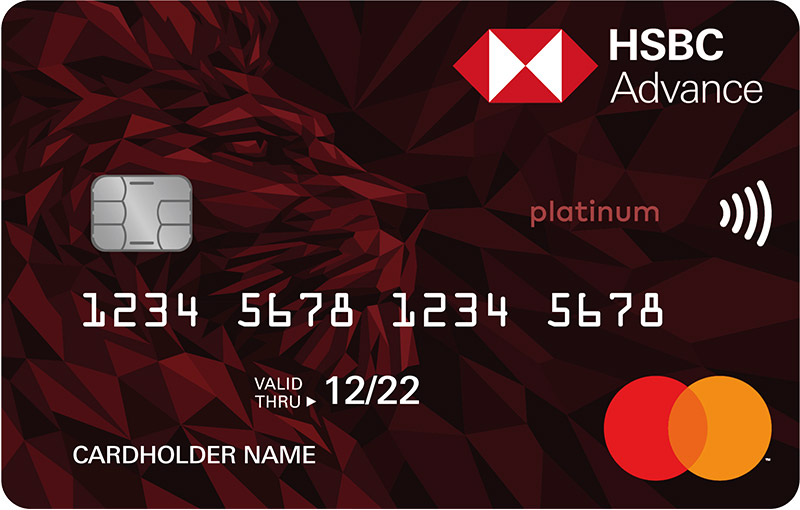 A card with built-in benefits
Get a wealth of travel and lifestyle benefits with a credit card for Advance Account customers.1
Enjoy rewards points, 'Buy 1 Get 1 Free' offers, complimentary airport lounge access, hotel discounts and much more for no annual membership fee.
Online offer: Apply today and get up to EGP 200 cashback
Why you'll want this card
Earn 0.2 rewards points for every EGP 1 spent

Enjoy complimentary access to 25 airport lounges worldwide, and travel insurance

Access over 9,000 'Buy 1 Get 1 Free' offers with the free Entertainer app in Egypt and abroad

Competitive balance transfer plans with 0% interest for the first 3 months

Option to transfer multiple card balances onto a new HSBC credit card with a 24-month payment plan at a discounted interest rate

Choose an instalment plan at a discounted interest rate to suit your needs and lifestyle

Receive a competitive interest rate of 3.3% per month

Go green with us. This HSBC Credit Card is now made from 85% recycled plastic
Make contactless payments for small purchases using payWave

Get an interest-free period for up to 56 days when you pay off your full outstanding balance each month

Share up to 4 free supplementary cards with family members2

Shop securely with Chip and PIN and Mastercard SecureCode™

Use worldwide at over 32 million retail outlets and over 24,000 ATMs

Get up to 50% of your available credit limit as a cash advance

Triple access: use our ATMS to access your card account along with your HSBC Current and Savings Accounts

Daily Cash Withdrawal limit - Withdraw Cash up to EGP 7000 daily whether as a Cash Advance or from your HSBC Current and Savings Accounts using the triple access feature.
Card benefits
My Rewards Points
Make purchases with your card at home or abroad to automatically earn 0.2 points for every EGP 1 spent or 1 point for every EGP 5 spent.3 You can redeem points on electronics and homeware, flights and leisure, treats and gifts, e-vouchers and much more.

Instalment plans and balance transfer
Things you should know
Ways to pay your credit card bill
To apply for this credit card, you must be an Egyptian national or have permanent residency in Egypt, and:
be between the ages of 21 and 65 years of age (60 years for non-Egyptian nationals) if you're the primary card applicant
be at least 16 years of age if you're the supplementary card applicant
You can apply for an Advance Credit Card when you open or upgrade to an HSBC Advance Account.
If you're not an Advance customer, you will need to first open an Advance Account before you can apply for an HSBC Advance Credit Card.
Apply as an existing Advance customer
Online
Request a call back to benefit from priority processing and our exclusive online cashback offer.5 If you spend a minimum of EGP 500 within 60 days of your card being issued, you'll earn:
EGP 150 cashback for a primary credit card
EGP 200 cashback for a primary and a supplementary credit card
Our team is available weekdays from 9.30am to 3.30pm and will be in touch within 120 minutes.6
Call us
Visit a branch
Speak to us in branch to start an application.